i
Consider a sponsored online program currently accepting applicants.
School
Program
Admissions
Emerson College

Emerson College

Master's in Speech-Language Pathology

No GRE required, prepares you to pursue certification as an SLP generalist. As few as 20 months to complete. CAA-ASHA accredited.

✓ CAA-ASHA Accredited

New York University

New York University

Online MS Program in Speech-Language Pathology

Prepares students to pursue SLP licensure. Full-time and part-time plans of study. CAA-ASHA Accredited. No GRE Required.

✓ CAA-ASHA Accredited
Review what it takes to become a speech pathologist, as well as the many diverse career paths available in order to provide you with a guide that can get you on track for the career you desire. The information in this guide can assist you with taking the first steps toward a profitable career in the field.
Speech pathology is a field that blends the science of communication with intensive assessments and treatment planning. If you are intrigued by the services that are provided in this specialized area, you can consider a career through graduate-level training and state licensure.
i
Consider a sponsored online program currently accepting applicants.
Click for more online speech therapy programs that are currently taking applications.
What is Speech Pathology?
Speech pathology as a professional field includes the study of common and uncommon speech and communication disorders, as well as the assessment and treatment of patients that display potential needs within these areas.
Speech Pathology Types
As a study of speech pathology degree programs, you can learn more about some of the most prevalent speech disorders in society. Take a look at a few of the communication disorders that may be targeted in speech pathology.
Apraxia of Speech
Dysarthria
Stuttering
Lisping
Mutism
The role of the speech pathologist is to determine the needs base of their clients in order to develop a helpful and beneficial treatment program to improve their abilities. These treatment plans may focus on muscle exercises for better speech articulation or possibly direct instruction on reading and word comprehension.
Speech pathology professionals can work in a wide variety of settings providing diverse services to their clients. The group that you are most intrigued by influencing may help you determine where to exercise your expertise in the field, as well as guide you into working with specific people during your career.
This field has found a place in partnership with general medical care, education, and rehabilitative sciences. Communication is one of the most important aspects of human development, which contributes to how important speech pathology can be for the quality of life of clients in need.
Educational Requirements
If speech pathology sounds like a field that you could see yourself involved with, you should take a look at some of the degree programs offered to help train you. Many professionals that have received certification and licensure in this field began preparations at the bachelor's level - which is recommended for anyone interested in this field.
Speech pathologists should hold a state license before providing their services to clients in the field. Licensing can occur after a student has achieved a minimum of a Master's in Speech Pathology.
At the very onset of your educational experience, you should choose a bachelor's degree that best complements your future career. There are bachelor's programs available that focus on communication disorders, as well as those in speech pathology. Either of these paths can teach you more about the speech disorders and biological foundations relevant to practice in this field.
Students that complete a Bachelor's in Communicative Disorders or other related speech pathology major can then move forward into master's programs. At the master's level, you should ensure that your degree program has received the right type of accreditation required for licensure.
American Speech-Language-Hearing Association

The accreditation agency responsible for guaranteeing the quality of your learning program is the Council on Academic Accreditation in Audiology and Speech-Language Pathology (CAA). This agency is a sector of the American Speech-Language-Hearing Association (ASHA), which is the largest and most well-known association for speech pathology professionals.
An interesting component of your degree program to consider is within the internship and supervised practicum requirements. Practitioners of speech pathology can receive the educational and practical training they need to succeed through these accredited institutional programs, which include 300-400 hours of practicum hours prior to graduation.
Your experiences in speech pathology educational programs can help prepare you for involvement in influential careers in the field. In the next section, you can review some of the most common and popular career options for graduates of speech pathology major programs.
SLP Licensure
There are licensure requirements to become a Speech Language Pathologist, and it depends on what state you plan on practicing in. The below map gives you an idea of the SLP licensure requirements for each state.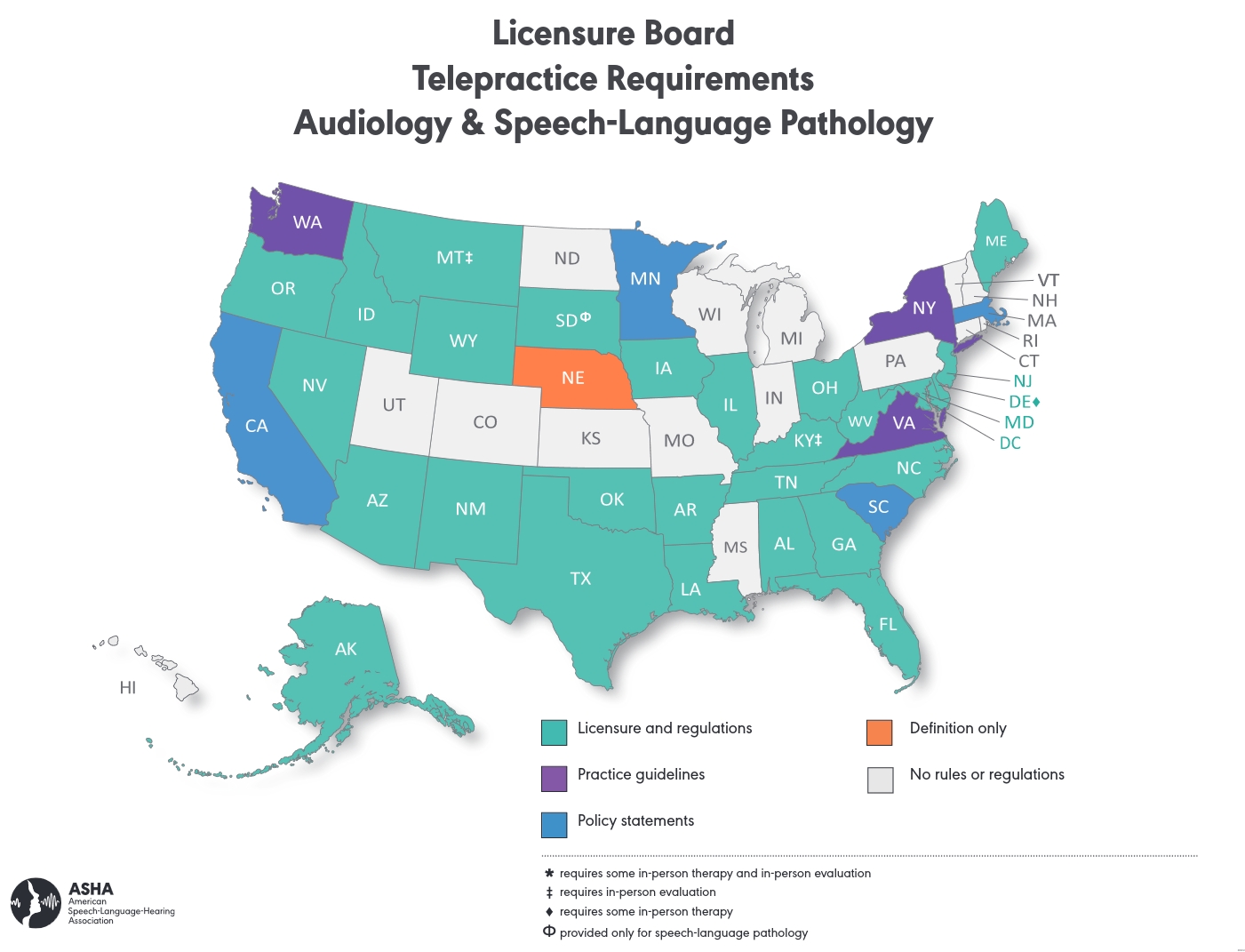 Top 10 Speech Pathology Careers
SLP: Speech Language Pathologist
One of the most popular career paths for upcoming professionals arises as a result of the SLP licensure. In this field, you can work in a variety of settings including language and learning centers, hospitals, schools, and even in private practice. Services provided may be individualized based on the widespread needs of your client base.
CCC:SLP Board Certified Speech Language Pathologist
Board certification in SLP can assist you in potentially receiving higher-tier positions in leadership or possibly in specialized fields of practice in speech pathology. You may provide diagnostic services, treatment, or supervision of SLPs within your organization.
Audiologist
Further certification can lead you into a career responsible for assessing and treating hearing disorders responsible for communication issues. Audiologists can work in private practice, in hospitals, or even in partnership with speech and language centers.
Educational Speech Pathologist
Schools may employ educational speech pathologists to work with children with diverse communication needs. Individual education plans may order specialized speech classes for children to attend during normal school hours. In this specialized area, you could work on staff with school systems in you area or possibly be contracted when needed depending on the demand of your services.
Rehabilitative Speech Therapist – Clinical Setting
Some speech pathologists may specialize in speech rehabilitation for adults and children that have lost their ability to speak due to injury or illness. In this field, you might work in hospitals, rehabilitation centers, retirement homes, or even in private practice.
Communication/Speech Research Specialist
As the field of speech pathology progresses, new knowledge can transform practice. A degree in speech pathology paired with experience can prepare you to work in progressive research that can change the field as it stands. In this career you can analyze the effectiveness of treatments, test out new assessments and treatment measures, and contribute to a higher quality of service for speech providers.
Speech Curriculum Development
Curriculum development specialists often utilize new research findings to develop better treatments for use in the field. In this position you could develop new treatment outlines for general speech disorders, education speech programs, or even those specific to speech muscle improvement or dysfunction.
Speech Therapist – Private Practice
Being licensed in speech pathology does not limit you to the type of settings in which you can work. Choosing to work in private practice can give you the freedom to work with the clients that you are most intrigued by assisting, as well as allow you the flexibility to create your own schedule. Private practice speech pathologists can also choose to work with a variety of clients, such as those in the educational setting and possibly even contracting with hospitals when needed.
Youth Hearing Specialist
As a youth hearing specialist you can work with children that have been identified as having impairments in hearing and speech comprehension. In this field, you can assess clients, recommend therapeutic services, and provide treatments relevant to client needs. Hearing specialists can work in hospitals, specialty medical clinics, or in private practice.
Geriatric Speech Pathologist
Speech services for the geriatric population can be beneficial for better quality of life. In this area of expertise, you could pursue a career in partnership with rehabilitation centers or retirement homes providing care to the aging population. Pursuing specialty certification can also extend your opportunities for advancement in this area.
Key Professional Organizations in Speech, Language, and Auditory
When you are new to speech pathology, you might benefit from connecting yourself to others in your field. This can be achieved through joining professional organizations related to your profession and even in some related agencies that contribute to improvements in your field.
In the list below, you can explore some of the most common and popular agencies for speech pathologists. Each agency may have its own expectations for membership, including differing fees and membership periods. If you are interested in becoming a member for your own career development, our team encourages you to visit the websites of these agencies to learn more about what each can provide you with.
American Speech-Language-Hearing Association (ASHA): ASHA is the largest organization for speech pathologists in the U.S. Involvement with this agency can provide you with unlimited resources regarding new research, development, and specialized studies in this field. This agency also accredits educational programs in speech pathology and acts as an advocacy provider for its members. Licensees with membership to this organization can gain access to continuing education credits and events to help expand their knowledge in speech pathology and audiology.
American Auditory Society (AAS): Speech pathologists that move forward into specializations to compound their expertise in communication can join organizations such as the AAS to further their knowledge in the field. This organization specializes in learning more about disorders related to hearing, rehabilitation of individuals with hearing disorders, and innovative treatments for hearing and communication.
National Institute on Deafness and Other Communication Disorders (NIDCD): If you become a part of the field of speech pathology, you should expand your membership to alternative organizations such as the NIDCD. This agency explores the scientific foundations of deafness, as well as many other common speech disorders. This agency funds research aimed at increasing the quality of treatment in these fields, which could directly influence the types of treatments utilized by speech pathology professionals.
Average Salaries for Those Working in Speech Therapy
Speech Language Pathologists: $77,510 on average per year (BLS).
Audiologists: $75,920 on average per year (BLS).
Educational Speech Pathologists: $68,270 on average per year (BLS).
SLP Career Settings
Speech pathologists can be extremely helpful assets in centers that focus directly on improving communication for people of all age groups. This type of setting may have structured language training programs for people that have been diagnosed with disorders such as Autism Spectrum Disorder or even for fully functioning children or adults with mild speech issues.
School systems may also employ the use of speech pathologists for children that require speech intervention for educational success. Some schools hire speech pathologists to work on-staff and hold their own classes during the normal school day.
Other educational agencies may contract the services of speech pathologists on an as-needed basis. Private practice speech pathologists can provide services to several different clients with varying needs and communication abilities.
In the healthcare and rehabilitative setting, speech pathologists can work with clients that have lost the ability to communicate due to serious injuries or accidents, as well as from resulting diseases or illnesses. Many hospitals hire speech pathologists to work on-staff with clients in the medical setting.