i
Consider a sponsored online program currently accepting applicants.
School
Program
Admissions
Emerson College

Emerson College

Master's in Speech-Language Pathology

No GRE required, prepares you to pursue certification as an SLP generalist. As few as 20 months to complete. CAA-ASHA accredited.

✓ CAA-ASHA Accredited

New York University

New York University

Online MS Program in Speech-Language Pathology

Prepares students to pursue SLP licensure. Full-time and part-time plans of study. CAA-ASHA Accredited. No GRE Required.

✓ CAA-ASHA Accredited
If you are interested in becoming a speech pathologist, you should prepare to complete all of the educational and practical requirements for licensing within your state. Each state has different expectations and regulations for speech pathologists, making your research important to your future success.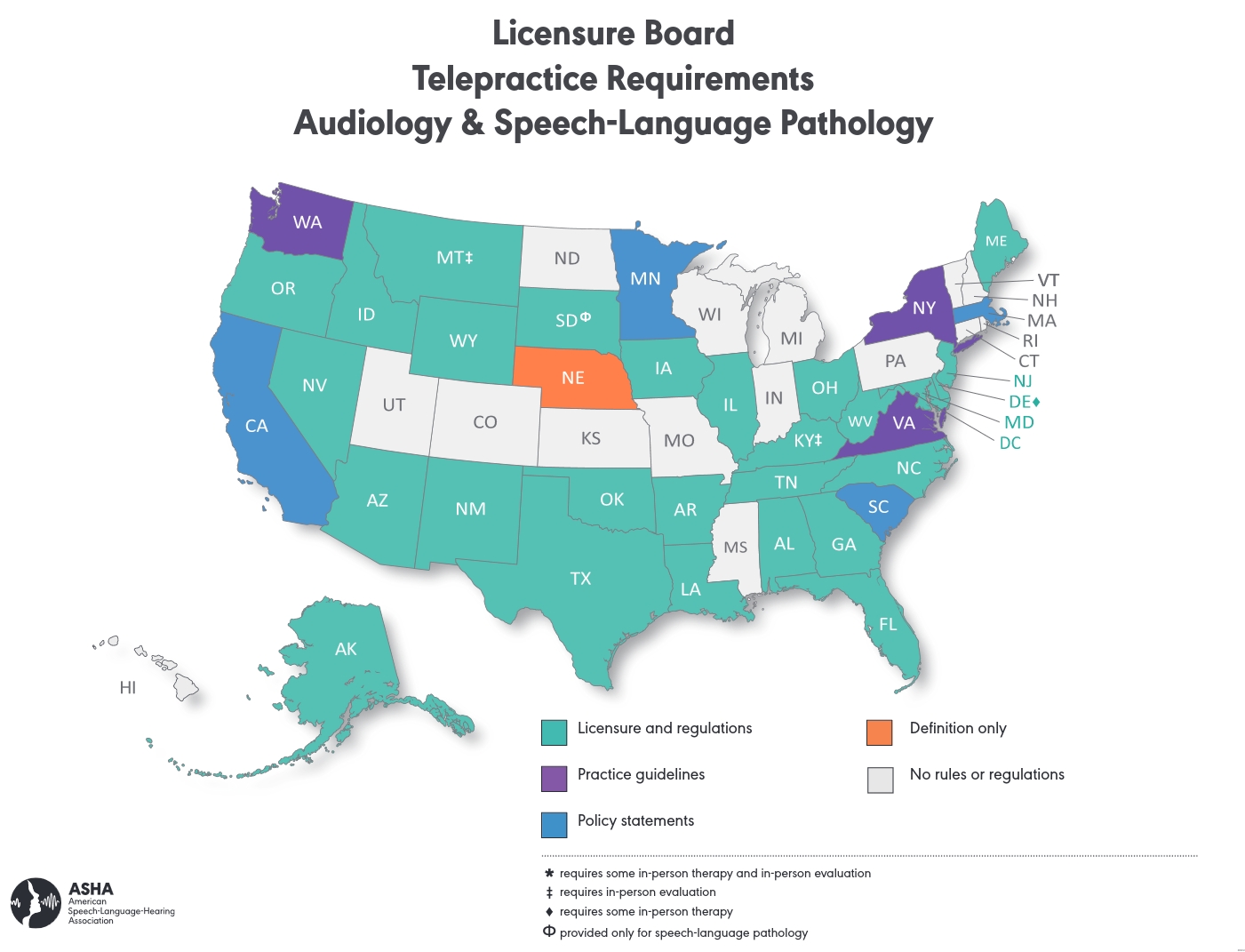 Why Pursue a License in Speech Pathology?
Licensing in the field of speech pathology can communicate your education and experience within the field. Since speech and language services can be so influential on the people being served, licensing is a practice that can validate one's efforts toward becoming a professional in this line of work. Licensing is put into place to protect clients as well as protect practitioners working in the field.
i
Consider a sponsored online program currently accepting applicants.
Click for more online speech therapy programs that are currently taking applications.
Educational Requirements
One of the most common questions asked by future speech pathologists concerns that amount of education required for licensing. The minimum degree level required to obtain a license within this field is the masters, which can be found both in the traditional and online environment.
After completing a Bachelor's in Communication Science or Speech Pathology, students can move into master's programs that focus more on the diagnosis and treatment of language disorders. Students can learn more specifically about the varying disorders related to speech and comprehension, as well as learn more about the influence of genetics, illness, and injury on normal speech development.
Courses within the Master's in Speech Pathology program may also allow students to learn about and practice different therapeutic techniques for a wide variety of speech impairments. What is learned in these courses may then be practice during the clinical experience required for licensing.
The educational requirements for licensure in speech pathology may include a 3-4 year commitment for a bachelor's program, plus an addition 1.5-4 years for a master's program. Students enrolled at a full-time rate may be able to complete their educational components at a quicker rate than part-time students.
Accreditation Requirements
If you have spent a lot of time researching educational programs in speech pathology, you might have noticed that accredited degree programs are required for licensing. The leading accreditation agency for speech pathology is the American Speech-Language-Hearing Association (ASHA). This organization accredits degree programs in speech pathology and can assist graduates with receiving certification in their field.
Students looking for traditional or online Master's in Speech Pathology degree programs should look closely at the accreditation information of each program before enrolling. Some degree programs may offer research-oriented degree programs without accreditation, which can be misleading to upcoming licensees.
You are also encouraged to utilize the ASHA website for more information regarding accreditation standards for speech pathology degree programs. This agency also offers specific information about accredited schools all across the United States.
Experience Requirements
One of the most important components in obtaining your license as a speech pathologist is experience. What you learn during your degree program can be translated into practice through a supervised fellowship in your area. In order to comply with what is required in your state, you may be required to locate a supervision placement and a licensed speech pathologist willing to supervise you.
The entire supervision process should take place over the course of 36 weeks. During this time, the work that you complete is analyzed and reviewed by your licensed supervisor, who provides you with feedback for growth as a professional. At the end of your supervision experience, you can turn in all documentation from your supervision component as a prerequisite for board testing.
Testing
One of the final steps towards licensing in the field of speech pathology is related to competency testing. In most practical fields, graduates may be required to pass an examination that tests their skills in knowledge and practice.
Applicants considering licensure are required to successfully pass the Praxis Examination in Speech-Language Pathology and submit those scores during the application process. This test requires great preparation, which is supported to active involvement in the degree program and hands-on learning during the clinical requirement.
When you sit for this examination, you might notice questions that focus on scenarios that can arise in the field. These questions require that you draw from your knowledge of assessment in speech pathology, as well as your knowledge of the different speech and language disorders prevalent in society.
Treatment methods, therapies, and road blocks to treatment may be displayed during the Praxis examination, making it necessary for you to have the clinical knowledge of services in the field. The complex questions present on this examination may require excellent critical thinking and evaluation skills from the learner.
Some licensees in the field of speech pathology recommend that upcoming test takers plan for their test by reviewing all materials, interviewing current licensed practitioners, and exploring the ethical considerations and requirements of their field..
Board Certification
ASHA accredits degree programs in speech pathology and also plays an important role in professional certification. Some states do not require the Certificate of Clinical Competence from ASHA, but some states recommend it as a pathway to licensure.
If you are interested in becoming board certified – whether by requirements or just general interest – you will need to ensure that you have met all of the academic requirements set forth by ASHA. ASHA'a Council on Academic Accreditation (CAA) lists accredited degree programs for you to choose from at the onset of your academic experience.
In addition to the academic requirements, you may also be required to complete 1,260 clinical hours prior to being certified. Once you have completed these requirements and Praxis testing, you can move forward with your application for certification.
Applying for Licensure
The final step towards obtaining your license in speech pathology is submitting your final application with all supporting documentation. Most states require that you submit copies of your education transcripts, documentation from your fellowship and supervisor, and original Praxis results.
General paperwork regarding your personal information, background checks, and intent as a professional may also be included in the initial licensure packet, which is all then directly submitted to your state's licensing department.
Maintaining Your License
Most fields that require licensure may also require professionals to continue their education even after their certification. As a licensed speech pathologist, your state may require that you renew your license every few years – every 2 years by most standards – and engage in continuing education during this period.
Continuing education opportunities can be found online or even through the ASHA website. As a changing professional in speech pathology, it is important that you retain an open mind during the life of your career, so that you can change alongside new discoveries in the field.