Best Guide for Speech Pathology Degrees
i
Consider a sponsored online program currently accepting applicants.
Speech pathology is an extremely important science that focuses on communication and swallowing issues in clients in all age groups. If you are the type of student that is seeking a career that can influence the quality of life for clients in need, this field could be one of many that can help you meet your career goals.
In this guide, we will show you the benefits associated with pursuing a speech therapy or speech pathology degree and will give you with some tips towards becoming certified within the speech language pathology area.
Statistics in Speech Pathology: A Growing Need for SLPs

According to the National Institute on Deafness and Other Communication Disorders (NIDCD), 7.7% of children within the 3-17 age group has been diagnosed with a speech, language, or swallowing disorder within the last year. These statistics show a strong need for educated and trained professionals within this specialized treatment field.
Finding a Speech Therapy Degree
The high number of children with speech and language disorders may make it increasingly important to continuously add to the pool of licensed professionals in each state, which can be achieved through enrollment in accredited master's training programs.
Speech Pathology Degrees
Finding SLP Programs by State
The prevalence of speech pathologists by state vary according to population, with states such as Texas and California having the highest number of speech pathologists in the U.S. Professionals in speech pathology can contribute to better learning and social development, making them great additions to educational and medical teams. Since these professionals work in conjunction with healthcare providers and schools, there may be multiple locations for professionals to pursue careers within their local areas.
i
Consider a sponsored online program currently accepting applicants.
Click for more online speech therapy programs that are currently taking applications.
What do you learn from a speech pathology degree?
Students of speech pathology can learn to utilize therapeutic tools in an effort to help clients improve their speech sounds, social communication, voice sounds and fluency, and general language. In some areas, speech pathologists can also assist with feeding problems that may be associated with nutritional issues and other dangerous health problems.
The path to becoming a speech pathologist begins with relevant degree programs at institutions that have acquired the proper type of accreditation.
For the most part, the minimum requirement for licensure is a Master's degree in Speech Pathology, but students can begin to gain relevant skills for this field as early as the bachelor's level.
Read more in the guide below to learn more about speech therapy, speech pathology, and different subsets of the speech program area.
Online Speech Pathology Programs
A large number of adult learners looking for quick solutions to career dissatisfaction find themselves seeking alternatives in the online environment. Online speech therapy degree programs can be great alternatives for upcoming professionals that need to maintain a career while pursuing higher education, or even for new college students looking for flexible learning opportunities after high school.
An interesting component about online speech pathology programs is that they can be found at all degree levels. You can enjoy the benefits of flexible learning at the bachelor's and master's level, making online programs a viable option for you to consider.
During an online SLP program, you might be expected to log in to your courses up to 3 times per week, completing assignments, discussions, and tests before preset due dates. Most online courses provide students with training prior to the start of courses, so that you can easily access all of the features from the first day.

View Online SLP Programs
Types of Speech Pathology Programs
There are many different master's programs that will admit students with a wide range of undergraduate degrees in hand. If you want to fully prepare yourself for a career in this specialized area from the beginning, you should consider bachelor's degree programs that focus on communication science or communication disorders. In some cases, students can be admitted into graduate programs with alternative bachelor's programs, but these requirements can vary depending on your chosen institution.
Once you have made it to the master's level, you may find varying programs that offer learning experiences based specifically on your needs. Some students choose to pursue the traditional route to higher education, which includes in-person learning and day-to-day classroom instruction. Other students may find online programs more fitting for their personal schedules and daily responsibilities.
Even at the highest level, Doctorate programs in Speech Pathology can also offer students the opportunity for flexibility. Both online and traditional options can be pursued by students with varying learning styles and scheduling needs. The field of education has transformed with the influence of technology, making different paths available for students with different needs.
Masters Degrees in Speech Pathology
When you are prepared to enroll in an Online Master's in Speech Pathology degree program, your path could be paved according to your educational history. One program currently open to students can be completed in 5 semesters – and specifically caters to students that have completed a bachelor's program with a major in communication disorders.
Students that have completed bachelor's programs in other program areas can enjoy the benefits of this same program, but will be required to take an additional 2 semesters to complete their degree. During these programs, students are often required to engage in off-campus experiences that can help to improve their skills in field practice along the way.
During your master's program, you might learn more about different language and speech disorders that are frequently treated in the field. Deep learning into this subject can help you to prepare for working with a wide variety of clients, which can create a repertoire for positive change in your career.
The standard Master's in Speech Pathology program can be completed in around 2 years, which can contribute to your quick transition from education to licensure and then from licensure into a career. You should review your state's requirements for speech pathology licensure before choosing a master's program to enroll in.

View Online Master's in SLP Programs
ASHA Accredited Programs

If licensing in speech pathology is what you seek, you should consider a program accredited by the American Speech-Language-Hearing Association (ASHA). The main priority of this organization is to accredit university programs in speech pathology, which is a requirement for licensing in the U.S.
Through this website, our team was able to locate a list of schools that can provide you with accredited programs in your field. Choosing an accredited major program can allow you to engage in reliable learning experiences that can teach you all of the required elements of licensed professionals in the field.
SLP Licensure
There are licensure requirements to become a Speech Language Pathologist, and it depends on what state you plan on practicing in. The below map gives you an idea of the SLP licensure requirements for each state.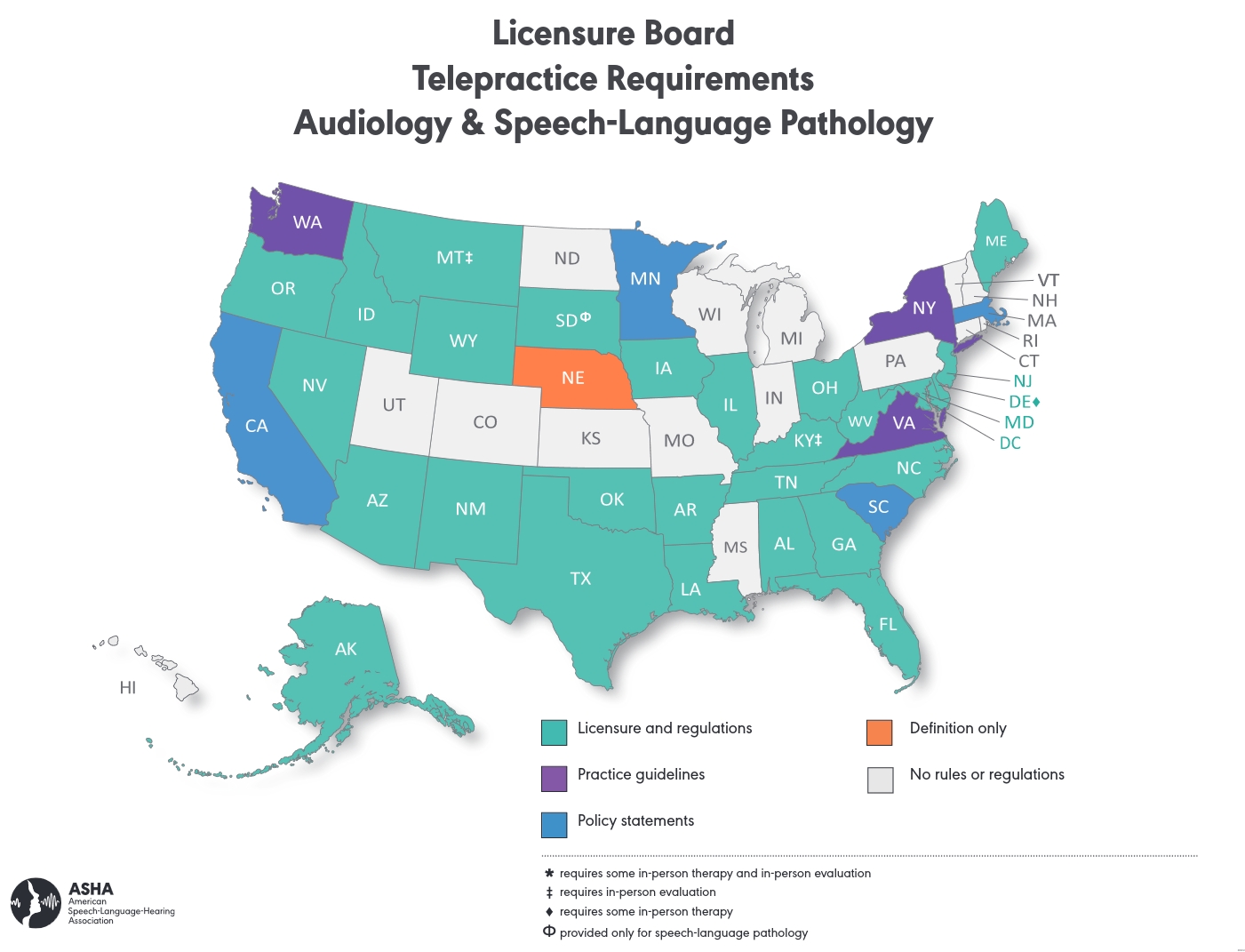 The short list below shows you a snippet of programs that can lead you into a career in this field. Further research into the ASHA website can provide you with more options for your degree program, as well as more information into the importance of accreditation and the process by which schools are approved.
Alabama A&M University: Bachelor's in Speech Pathology & Master's in Speech Pathology
Arizona State University: Bachelor's in Speech Pathology, Master's in Speech Pathology, & PhD in Speech Pathology
East Carolina University: Bachelor's in Speech Pathology, Master's in Speech Pathology, & PhD in Speech Pathology
From ASHA: What To Expect in a Speech Pathology Career
Licensure in Speech Pathology
Speech pathologists in the U.S. must obtain a license prior to working one-on-one with clients in the field. The minimum degree requirement for licensing in this field is a Master's degree in Speech Pathology. The master's program must hold the right form of accreditation for your state licensing agency. Upcoming students are encouraged to review their state's specific guidelines to licensure prior to enrollment in any degree program.
Completion of a Master's in Speech Pathology program should then lead you into a supervised work experience requirement at an organization of your choice. This requirement generally includes a 36 month time period and can help you to learn the hands-on application of what you have learned during your degree program. During the experience, you must work under the direct supervision of a licensed speech pathologist in your state.
At the end of your learning and experience requirements, you may be required to take an examination in speech pathology. The Praxis II: Subject Assessment in Speech Language Pathology tests you on what you have learned about provided speech services, various diseases, and ethics in the field. Once you have successfully passed this examination, you can apply for licensure within your state.
It is important that you consider license maintenance over the course of your career. Some states require that licensees engage in continuing education requirements to stay fresh on new changes to the field and reapply for licensure every 2 years.
Career Options for a Speech Pathologist
Private Practice: Speech pathologists in the private setting can evaluate and provide treatment to a wide range of patients in a clinical setting. In private practice, you can choose to work with individuals presenting specific symptoms or work with clients with varying speech and language needs.
Education: In the field of education, speech and language pathologists can work with children that have been diagnosed with speech related issues and have been identified as needing speech services in an individual education plan. Speech specialists may have their own classroom or work with children during normal school hours in the school setting.
Rehabilitation/Residential Care Centers: Some specialists in speech pathology may work in residential centers that focus on care for the aging population or people with disabilities. Assisting people communicate in these areas can improve their overall quality of life, as well as the accuracy of their treatment services.
What Is Speech Therapy? Influence on Communication
People that have voice, speech, comprehension, or feeding issues can seek support from trained and licensed professionals in speech language pathology. Speech therapy is a form of therapeutic intervention that can help individuals develop better habitual functioning in communication, which can allow for better learning opportunities and better vocalizations and language development.
Speech therapists can be found in a wide variety of settings. In the field of education, speech therapists can work with students that have been identified as having language delays or problems with language comprehension. In this setting, students can work individually with speech therapists as well as in groups with other learners.
Children and adults can also utilize speech therapy services through language centers within their community. Professionals in speech therapy can assist clients with normal physical development or even individuals that have been diagnosed with physical or mental disabilities.
Our team of experts has reviewed the area of speech therapy in order to provide you with more information into what this practice actually is and the people that can be affected by it. Read more in the guide below to learn more about this fascinating field.
Identification of the Issue
Speech issues can be present in people within all age groups. Most speech impairments are identified in children at a young age, most often during the ages of 1.5 to 2. Normal language development is often screened through regular physical appointments, where parents are encouraged to evaluate their child's progress in comparison to normal speech milestones.
When children are not developmentally on track with normal language development, they may be referred to speech services to assist with getting them on track. Some speech and language diagnoses are related to the articulation of sounds and sentences, while others may focus on speech impairments such as lisp, tongue-tie, or dyspraxia.
The amount of words that a child knows, the vocal sounds that a child makes when speaking, and a child's comprehension of spoken language may all be issues that can be addressed through speech therapy. When a referral is made, speech language pathologists can assess a child's current level of functioning and develop a diagnosis to lead an upcoming treatment plan.
Treatment and Intervention
During an initial appointment with a speech therapist, an individual may be provided with several different assessments to test articulation, voice problems, receptive language delays, and even feeding issues. Depending on the results of this assessment, the client may be referred to different types of speech therapy to improve functioning in any of these areas.
A treatment plan will recommend services based on the needs of each client individually. In some cases, therapists can utilize play-like therapy using pictures or cues to help their clients develop associations between items and words. Therapists can also assist in the development of normal speech sounds through modeling and practice, which is then repeated in order to allow these new skills to become habitual.
Individual treatment plans can also be adjusted as a client learns new skills and shows improvement in different areas of concern. Most speech pathologists establish goals for each of their clients, as well as particular treatment steps that can help in meeting those goals.
What is Telepractice
While a majority of speech services take place in a face-to-face setting, technology has made it possible for clients of speech services to receive therapy through virtual means. Telepractice is currently being utilized by speech therapists providing services to clients in a broad range of locations.
During telepractice appointments, clients can log in to a portal that allows them to work with their therapist via the internet. Some speech and audiology therapies can be properly delivered via a computers monitor and headset devices, making it possible for clients to learn without having to leave their own home.
Common Speech Issues
Dysarthria
Dysarthria is a condition that affects people that have obtained brain damage as a result of injury or disease. People within all age groups can be affected by dysarthria, which can warrant the need for speech services during their lifetime.
Dysarthria is characterized by lack of muscle strength, which leads to speech and language problems in those diagnosed with it. Some of the most common symptoms of dysarthria include the inability to move the mouth and tongue well, speaking too slowly, slurred speech, or changes to voice.
People with this varying speech and language diseases may present with dysarthria as a result of comprehension or communication issues. Intervention from speech language pathologists could assist with increasing articulation and communication for those with this disorder.
Mutism
Mutism is a speech issue that is presented as a lack of speech. There are multiple forms of mutism currently examined in speech pathology, most commonly selective mutism and neurogenic mutism. Each of these forms of mutism may have differing causes, which may require different forms of speech and language services for language improvement.
Neurogenic mutism may occur as a result of a traumatic brain injury or illness. Some research points to damage of the cerebellum as the culprit for this symptom, but a definite cause has not yet been determined. Individuals with this type of mutism often awake from surgery or coma unable to speak, making the need to rehabilitative services necessary for language retrieval.
Selective mutism, or psychogenic mutism, is characterized by the ability to speak in comfortable or familiar situations, but the inability to speak in unfamiliar situations. Selective mutism differs from neurogenic mutism in that there is no known damage to the brain that results in the lack of speech.
Tongue Tie and Speech Development
Tongue Tie, also known as ankyloglossia, develops when the tongue's range of motion is restricted at birth, leading to struggles in communication and speech development. The tissue underneath the tongue (lingual frenulum) may be short or thick in children with this disorder, which can contribute to issues with breastfeeding, swallowing, and later speech development.
Treatment for this condition may involve surgical intervention, which is then followed by speech and language services for most patients. Since tongue-tie can be passed on to children through genetic traits, adults with a history of tongue-tie are often encouraged to have their children screened for this condition after birth.
Apraxia of Speech
Apraxia of speech is a speech disorder that presents in people that have difficultly with speech movements. Brain damage, genetic disorders, or brain injury can contribute to the onset of apraxia, which can cause delayed speech development, limitations in the amount of words spoken, and difficulty with vowel and consonant articulation.
In young children, apraxia of speech is often noticed when pronunciation of vowels and consonants is distorted or when words are spoken by breaking down syllables. In some cases, patients with apraxia may also utilize incorrect consonant sounds when speaking common words.
Intervention for speech apraxia may involve regular treatment from speech language pathologists. Professionals may work with clients to strengthen speech muscle movement for various speech sounds, which can help people connect accurate muscle movement with visual speech cues.
Voice Therapy
Voice therapy is a speech intervention that can be implemented to help clients work through a wide variety of speech related disorders. Some of the most common voice disorders present in society currently include functional voice disorders, organic voice disorders, and psychogenic voice disorders.
Voice disorders can present in clients that speak louder or use more force than is needed during normal speech, people that have vocal changes in response to stress or unfamiliar situations, or individuals that have voice changes after surgery or injury.
Voice therapy can assist people with vocal exercises and training that can improve vocal sounds regardless of the cause. Speech therapists can work with clients in person or even virtually during this type of therapy.
Lip Tie Speech
Some patients seeking speech therapy may be limited in speech due to a condition called lip tie. Lip tie involves tissue from the lips being attached to the gums inside the mouth, which can create unfavorable speech delays and problems with overall speech development.
The initial treatment for lip tie often includes surgical intervention, which can correct the connection between the lips and gums. Once this has been completed, patients can utilize speech therapy services to receive assistance with learning correct speech movement that can lead to better language development in patients in all age groups.
Ankyloglossia
Patients that have been diagnosed with ankyloglossia, or tongue-tie, may have difficulties with overall speech development due to the connection of tissue between the tongue and the mouth. In some cases, young children with this disorder may present with difficulties with feeding and swallowing, which can then lead to speech abnormalities in early development.
Speech pathologists can often work with individuals that have been diagnosed with akyloglossia, in some cases after surgical procedures that correct the mouth and tongue connection. Practice in speech movement and vocalization in the speech therapy setting can assist people with tongue-tie with better vocalization development that can contribute to better communication overall.
Lisp
A lisp is a condition in speech therapy that involves a client's substitution of speech sounds, most often with the letters 's' and 'z'. This particular type of lisp is referred to as a frontal lisp, which involves the incorrect placement of the tongue and the use of air during speech.
There are different types of lisps that may prevent individuals from developing accurate vocalization of sounds during speech development. Palatal lisp can develop in children that roll the tongue too far back into the mouth, resulting in the tongue hitting against the roof of the mouth.
Dental lisps can develop with speech learners form a habit of pushing their tongue against the back of their front teeth during normal speech. Lateral lisps can interfere with a normal 's' sound, since people with this type of speech disorder may protrude air down the sides of their mouth, rather than down the center – which is the proper method for creating this vocal sound.
Lisps can begin as a result of early childhood tongue-tie or other common speech disorders. Early intervention by speech therapists can support normalization in speech and vocal development, allowing patients to practice vocal muscle movement and speech sounds according to their individualized treatment plan.
Late Talkers
Late talkers can be best defined as children between the ages of 1.5 and 2 that have not yet reached normal language development milestones for their age group. In order to be deemed a late talker, children must be developmentally on track with other children in their age group.
This condition is often diagnosed when children between 1.5 and 2 are not using learning at least 10 new words each month. Late talkers are often on track with comprehension of speech and can respond when given a request from their parent or caregiver.
The causes of late talking are still being researched, but a relationship to genetics and low birth weight may play a role in its development. One-on-one speech therapy can be helpful in teaching new words and speech development for children with this diagnosis.
Rehabilitation
In some cases, people that have lost their ability to speak may require rehabilitative services in order to retrieve their previous level of speech functioning. These services may be required after an oral or vocal surgery, traumatic brain injury, physical injury, or progressive disease.
Brain injuries or stroke can cause patients to develop aphasia, which may cause the client to completely lose his or her ability to understand or express language. Speech language pathologists can develop treatment plans for patients that cater to their individual therapeutic needs based on how much ability was lost.